Teaching FAQ
Frequently Asked Questions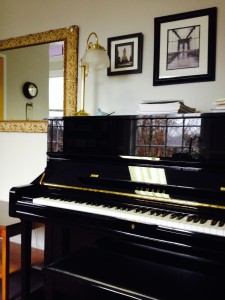 What are you like as a teacher?
I believe in keeping it simple when it comes to singing. Either the singing is open, relaxed, and free, or it's not. I also really believe that a safe, encouraging, and supportive environment is the very best place to foster artistic growth. With that said, I really make a point to make lessons a safe, relaxed experience while at the same time challenging you to reach a new level every week.
What are lessons like?
We'll start every lesson with exercises to develop and strengthen your technique. Exercises will be tailored individually to what you need, but they will always address the fundamentals of good singing: breath support, legato singing, pure vowels, vocal agility, and relaxation. If there is time, the second half of the lesson we will focus on whatever repertoire we decide to work on together, still employing the awareness of the technique we're building. But we are also going to look at how to really communicate your songs. Who cares if you sound nice if there's no honesty or emotional connection behind it? We've all heard singers with incredible technique that made us feel nothing. You are not going to be that singer.
What Musical Styles Do You Teach?
I am a classically trained singer and have found that a good classical foundation allows you to sing any style safely. Not that many opera singers are going to sound right singing rock. (Remember the SNL sketches of the middle school music teachers?) Anyway, the basis of my technique is completely old school Italian bel canto. I do specialize in music theatre repertoire since that has been my career. If you are looking for a strictly classical teacher, I am not the guy for you, but I can refer you to some great ones. But I will teach you to sing freely and with power, and I will teach you what it takes to be a successful performer.
Do you take beginners?
Yes. We will start wherever you are. Come on in and we'll look at your goals and make a plan to achieve them.
What do you offer to advanced students?
The majority of my clients have been professional singers and actors. Wherever you are in your development as an artist, we will make steps to make your singing freer, more expressive, and, better. With advanced students, we obviously get to focus much more on the nuances of your singing. But as a fellow singer, I know there are always areas of your voice you can improve. Aside from vocal technique, I also offer a working knowledge of this business.
What kind of students do you work with?
My students cover a wide range…from teenagers just beginning to sing to my own professional colleagues who need some help troubleshooting problem areas. I tailor every lesson to the individual client. I will say, though, that I work with people who are passionate about singing. I don't want to work with people who will not give the energy and focus this discipline needs. If you are passionate about your development, so am I. But if you weren't passionate about it, you probably wouldn't be reading this.
What are your rates?
email me

Where are you located?
When not teaching at Elon, I teach from home in Greensboro, NC. I also teach wherever you are with an internet connection on the Skype machine.