Who are you anyway?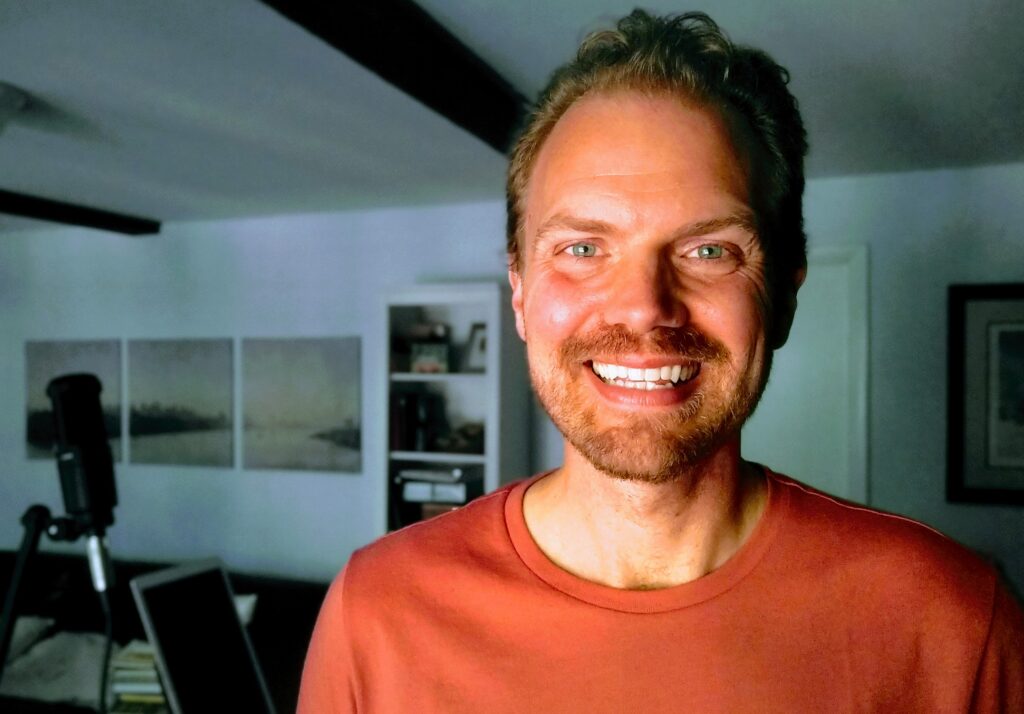 Whoah, you got existential really fast.
Here's what's important for you to know:
I've made every mistake a singer can publicly make and survived the snarky online comments.
I've been confused and frustrated by my singer shortcomings and struggled through a lot of difficult noise-making (vocal and mental) to find an easy, joyful, safe and sustainable technique. It works with multiple styles, and I share that with you.
I'm a curious seeker of what makes singing more satisfying for you. I'm a lifelong learner, and I serve on the faculty of Boston Conservatory at Berklee's BFA Musical Theatre and MFA Vocal Pedagogy Programs.
I'm a working actor with over twenty years of ongoing experience on Equity stages.
I am a husband to one bad-ahss wife and I'm dad to two unbelievably sweet and loud boys.
I'm a solid home cook, a gardener, a traveler, a reader, a British crime drama addict, and a world class hugger.
What is this place?
Again with the philosophical Qs. I'm here for it.
This is Dan Callaway Studio–a place where you learn how offensively easy singing can be.
It's also a place for folks who break into song in real life.
You know that trope-y criticism of musical theatre–"I mean, nobody just breaks into song in real life." Yes! In fact, some of us do.
Well-meaning adults told us we were too much, too intense, too sensitive. We're the ones who got Ns on our report cards for talking too much.
The reason we all do musical theatre is that we think it's a completely logical idea to stop the progression of time for three minutes and belt about our secret hearts' desires that no one else could understand except for 2000 people in a dark theatre.
So, this is the place where I teach you how to do that really well. The place where you learn to stand on that stage and turn carbon dioxide into warm, emotion-stirring music so that every person sitting in that dark theatre who was told they were too much can have a joyful, healing experience.
The geographic answer to your question is that I am in my studio, and you are where you are, and for the time being this will also be our lesson location thanks to Zoom.
So who taught you to sing?
Well, get out your monicker bucket because Daddy's about to drop some names.
Let's start at the beginning.
I had two guardian angel bulldog teachers in high school who told me I could sing and that I should do this for a living: Mr. Sandy Beam and Mrs. Debby Severs Diamont.
Because of their encouragement/shoves, I earned a BFA in Musical Theatre from Elon College. I had two great singing teachers there, Richard Cook and Catherine McNeela.
I lived and performed in London after college where I studied with Annette Battam. When I moved to New York City, I worked with master teachers like Marianne Challis, Joan Lader, and Gary Kendall.
I also coached with Tony-Winning composer Steve Lutvak (who got me an audition for Phantom, my first union job–thank you, Steve), and I studied song interpretation with B-way belt legend Betty Buckley.
Then I moved to Los Angeles where I studied classical technique with Renee Sousa, and I coached with Bill Vendice and Nino Sanikedze at LA Opera.
We moved to Greensboro in 2014, and I joined the music theatre faculty at Elon.
I went back to school to earn a Master's in Vocal Pedagogy at the University of North Carolina Greensboro. There I studied in Dr. Robert Bracey's studio, and my pedagogy track was under Dr. Robert Wells' watchful ears.
I've also spent time in Copenhagen at Complete Vocal Institute. Their approach has been a game changer for my students. and I'm confident it will be for you, too.
Now I have the privilege of serving on the Voice Faculty at Boston Conservatory at Berklee teaching BFA Musical Theatre singers and the MFA Vocal Pedagogy cohorts.
It's a vibrant place that makes me better every day. Seriously, I could skip past Fenway Park on my way from the train every morning. That's how much I love my job. I'm the luckiest. 💙
You got any other creds?
Well, dang. I know, I know–You want to know your teacher is legit.
Besides any letters by my name, you can check out the actory portion of this website and see the stage experience I'll share with you. If you just can't click away from this, some partial credits are
The Phantom of the Opera, Broadway National Tour
Sunday in the Park with George with North Carolina Summer Rep
South Pacific and Man of La Mancha at Triad Stage
Carousel, The Light in the Piazza, and Lombardi at Theatre Raleigh
Where's Charley at City Center ENCORES!
Linda Eder on Broadway at the Gershwin Theatre and on Bravo Television
Sweeney Todd at Musical Theatre West (Ovation Award Nomination for Best Featured Actor)
Putting It Together at South Coast Repertory
Pippin at the Mark Taper Forum with Deaf West Theatre
The Pirates of Penzance at the Guthrie Theater
My Fair Lady at Sacramento Music Circus
Jacques Brel is Alive and Well and Living in Paris at Riverside Theatre
The Most Happy Fella with Musical Theatre Guild at the Alex Theatre
Jesus Christ Superstar at the MUNY
The Caucasian Chalk Circle at the Hangar Theatre, Ithaca, NY.
All's Well That Ends Well, Theatre 1010, NYC
One Touch of Venus at the Royal Opera House, London
I also belong to Actors' Equity Association (AEA), the National Association of Teachers of Singing (NATS), the Pan-American Vocology Association (PAVA), and the Musical Theatre Educators Alliance (MTEA).
Why did you become a voice teacher?
You are really bringing the third degree.
It's a long and complex tale, much like the sequence of events that led you to this very communication. What's key for you to know is this–teaching found me.
When I was a kid, my version of "You're not the boss of me" was "You're not the teacher." (My mom was a sixth grade classroom instructor and could impart object pronoun principles and simultaneously put the kibosh on shenanigans with the raise of an eyebrow. So, I was impressed.)
Stephen Sondheim said about his mentor and father figure, "If Oscar Hammerstein had been a geologist, I probably would have become a geologist." I can say the same about my mom.
What's crazy is that I had no clue the gifts teaching would bring.
When you hear someone you've had the privilege to share your experience with say something like, "I don't know what I would have done this year without you" or "Thank you for seeing me, and being such a fierce advocate and kind human and, yeah, I just think you're amazing," (I may have saved that voice mail). Yeah, when hear something like that, you're not even ready for the humility-gratitude bomb that is.
Selfishly, teaching makes me a better singer. If I didn't spend hours every week helping you sing powerfully and free, I would have far fewer tools at my vocal fingertips. When I'm working on my own material, I step back and ask myself what I would tell you in this situation. It always helps. So, thank YOU for that!
Are you a good witch or a bad witch?
I'm definitely a Glinda.
Re: Wicked. Did you know the notes for "🎵Unliiiimited" are the same four notes as the beginning of "Somewhere Over the Rainbow"? See what Mr. Schwartz did there? (I learned that from my Music Theatre Literature students Andrew Purdy, Emma Vance, and Jasmine Walters, BTW.)
Oh! you wanna know what kind of teacher I am.
Bottom line–I want you to feel safe, seen, and heard. Singing is vulnerable. It's your expression. It's the material of your soul. I hold my privilege to be your guide-on-the-side as sacred.
We'll keep it simple to make your singing sustainable, easy, and free.
We'll focus on what you need the most. We usually laser in on your repertoire. We'll break it down in more ways than you can imagine. You'll learn about vocal modes, vowels, breath management, twang, what your jaw should be doing.
We'll also work song interpretation. You're the artist, so I will always ask you what sounds you want to make. I will always keep my ears open for what you need.
Okay, Dan! I'm picking up what you're putting down. How do I work with you and unleash my irresistible, yummy, Broad-way voice on the world?
I'm so glad you asked. You are just one click away.
Email me, we'll talk about those voice dreams, and if I'm a good fit to make them come true, we will set up a time. dan@dancallaway.com
You can see rates here.
But hold up, Dan. I have commitment issues.
Don't I understand. You don't have to commit to nothing.
Join our family of soul warrior ninja singers who want to feel freedom, love what they do, and bring joy to the room.
Share your sweet sweet deets, and get the Monday Muse Letter in your box to get your week started the right way.
It's real talk, voice tools you can use, sometimes unsolicited cooking advice, and every now and then an illustrated poem. Who doesn't want that?
But I still got Qs that need As
Again, my fellow real-life song burster, you are merely a click away from clarity and illumination.
Email me, and I will answer you. dan@dancallaway.com
And remember–There is only one you, and folks need to hear the story that only you can share.