Frequently Asked Questions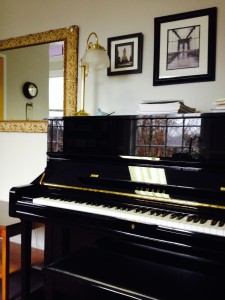 What are you like as a teacher?
I believe in keeping it simple when it comes to singing. Either the singing is open, relaxed, and free, or it's not. I also believe that a safe, encouraging, and supportive environment is the very best place to foster artistic growth. With that said, I make a point to make lessons a safe, relaxed experience so that I may challenge you to reach a new level every week.
What are lessons like?
We will focus lessons on what you need the most. They are almost always repertoire-centered–using the material we decide to work on as the basis for your vocal development. We will break down your repertoire in as many ways as you can imagine and more, learning about vocal modes, vowels, breath management, twang, what your jaw should be doing. We'll also make choices about song interpretation together. You're the artist, so I will always ask you what your instincts are when it comes to the sounds you want to make.
What Musical Styles Do You Teach?
Whatever styles you sing, I will help you make the sounds. Today's music theatre industry features nearly every style imaginable, so whatever your goals, we will create a plan to give you the tools you need to meet them.
Do you take beginners?
Yes. We will start wherever you are. Come on in and we'll look at your goals and make a plan to achieve them.
What do you offer to advanced students?
The majority of my clients have been professional singers and actors. Wherever you are in your development as an artist, we will make steps to make your singing freer, more expressive, and, better. With advanced students, we obviously get to focus much more on the nuances of your singing. But as a fellow singer, I know there are always areas of your voice you can improve. Aside from vocal technique, I also offer a working knowledge of this business.
What kind of students do you work with?
My students cover a wide range…from teenagers just beginning to sing to my own professional colleagues who need some help troubleshooting problem areas. I tailor every lesson to the individual. I will say, though, that I work with people who are passionate about singing. I don't want to work with people who will not give the energy and focus this discipline needs. If you are passionate about your development, so am I. But if you weren't passionate about it, you probably wouldn't be reading this.
Where are you located?
When not teaching at Elon, I teach from home in Greensboro, NC. I periodically teach in New York City. I also teach wherever you are with an internet connection on the Skype machine.